Aldemaro Romero - En El Malibú / Amiga Mía / 50 Años en el Espectáculo [Supra Vox, 1987, LP]
Esta entrada también está disponible en español. Haga click aquí para ver la versión en español.
---
Aldemaro Romero is one of Venezuela's best-known and most influential composers. His works have touched hundreds of artists and thousands of people over the nearly 70 years of his career in music, almost his entire life dedicated to his craft. This record calls back to 50 years in, with Aldemaro already an established composer, an international star thanks to both the Dinner In... series for RCA and the success of his Onda Nueva project, honored both in Venezuela with the Orden Andrés Bello and outside with his orchestra backing Mirla Castellanos, the winner of the second prize at the 1970 Festival Internacional de la Canción Latina in Mexico.
Interesting aside - most such biographies of Aldemaro Romero usually list that he won the supposed "Peace Prize of Soviet Intellectuals" in 1969 for the soundtrack to the film Simón Bolívar at the Moscow Film Festival, written in Spanish as "Premio de la Paz de los Intelectuales Soviéticos". Despite this fact being repeated throughout Venezuelan newspapers and especially on Wikipedia, (all sources in Spanish) which has no citations. However, if you go to the official website of the Moscow Film Festival, and look at the page for 1969, sure enough "Simon Bolivar, il liberatore" (Italian title, it's an Italian co-production) appears, but there is no prize of any sort for it. In fact, looking up that exact name of the prize just brings up reams of articles about Aldemaro Romero and only him. At first I thought this may be a case of Wikipedia citogenesis, but I have in my possession a newspaper clipping from music journalist Mergen Sequera, reproduced in the (unrelated) collection Aldemaro Romero - 51 años en la música (a record I may post some other day), which shows that, sure enough, at the time it was claimed that he received a "Peace Prize" on his arrival to Moscow. While this prize may very well be real, it is not documented anywhere outside these newspapers, and repeating the claim blindly is certainly not healthy, and a clear demonstration of how easily citogenesis happens on Venezuelan sources, as this is not the only case I've seen when researching Aldemaro Romero.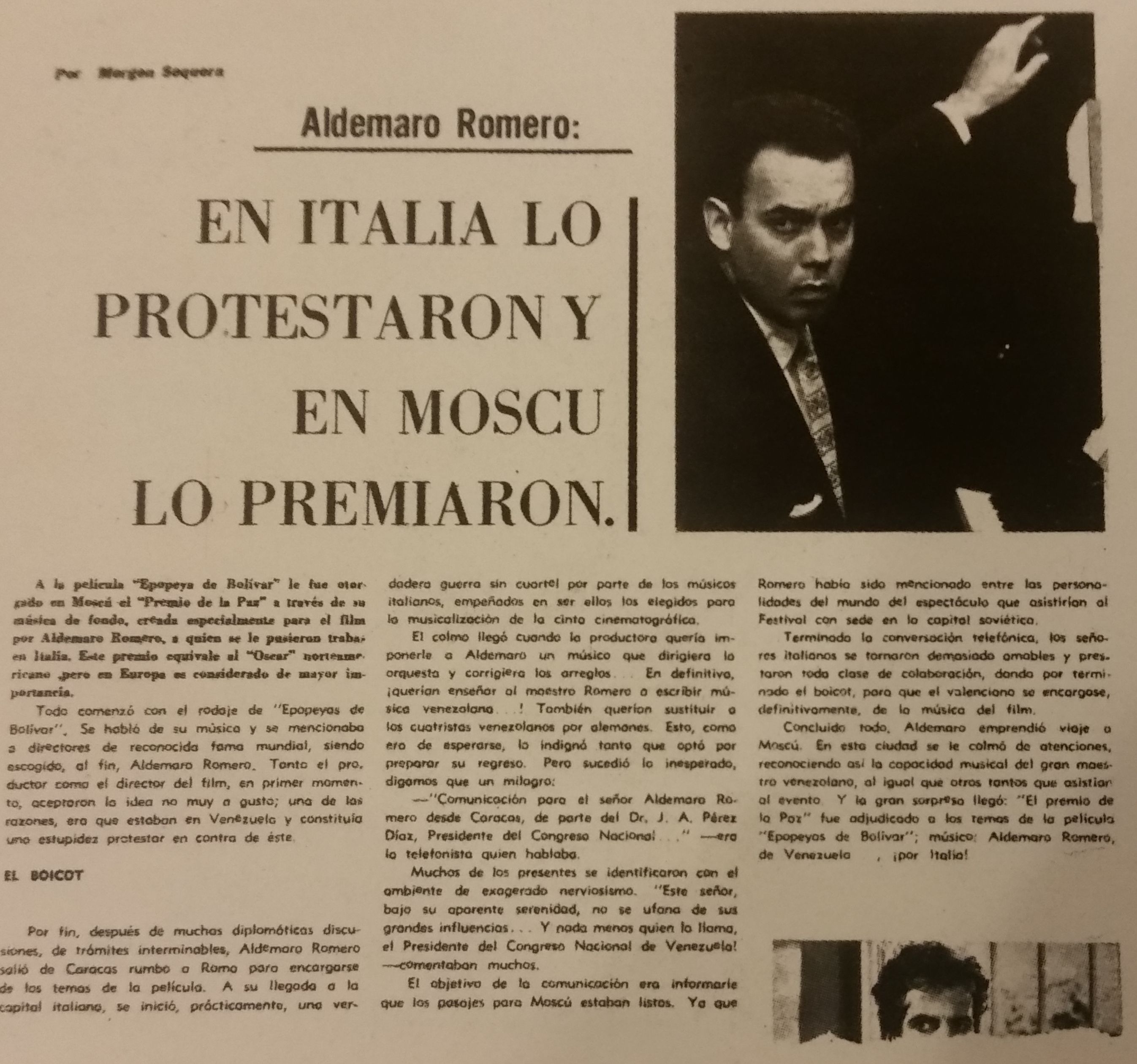 The newspaper clipping in question - see the statement about the prize in the rightmost column
---
Anyway, interesting tangent aside, we should talk about this record in particular. It's been difficult to find out solid information on this record. The record label is Supra Vox, a label created and run by Aldemaro himself, for him to release personal projects that he knew would not be an easy sell with the major labels. The cover shows a jubilant Aldemaro singing his heart out, accompanied by Frank "El Pavo" Hernández wearing his characteristic glasses on drums, Michael Berti Soteldo, the bass player of Onda Nueva, with a slight grin, and a smiling pianist on some nondescript electronic keyboard, in the fairly basic kind of stage setup you'd expect at a pub. Well, perhaps not quite a pub, but if the one blog I've found with information on this record is correct, then the "Malibú" in the title of this record is a restaurant that once was in the Las Mercedes neighborhood of Caracas, long gone since. That it disappeared more than 20 years ago is not really surprising - Las Mercedes is a very coveted spot for restaurants and various businesses, and only a few mainstays like Maute Grill or Le Coq d'Or have really stood the test of time in this fast-changing space. If we are to believe that this blog post is correctly quoting El Universal, despite the fact that I have been unable to find it in the newspaper's online archives (plausible, since El Universal has never fully mirrored their print edition online), then we have the following information about the history behind this record (translated from Spanish, published on September 19th, 2013):
Pedrito López was playing in the Malibú restaurant in Las Mercedes in 1986, when Aldemaro Romero (1928-2007) began frequenting the place. He already knew the master, as his father, Virgilio López Bosch, played in the same spot where Romero once did, the Nóvgorod, in the basement of the Teatro Altamira, the most important nightclub of Caracas in the 70s.
"In 1986, I remember that the master was recovering from a heartbreak (as if that were strange), that which we call a guayabo. And one day, he proposed that I accompany him on some songs. From that point on, I became his official pianist", recounts Pedrito López, who today is part of the Trío Aldemaro Romero, along with Gustavo Carucí and Miguel Antonio de Vincenzo.
López would be the pianist of the Onda Nueva creator [Editor's Note: Aldemaro Romero created the Onda Nueva project in 1969] almost until his death, which occurred on September 15th, 2007.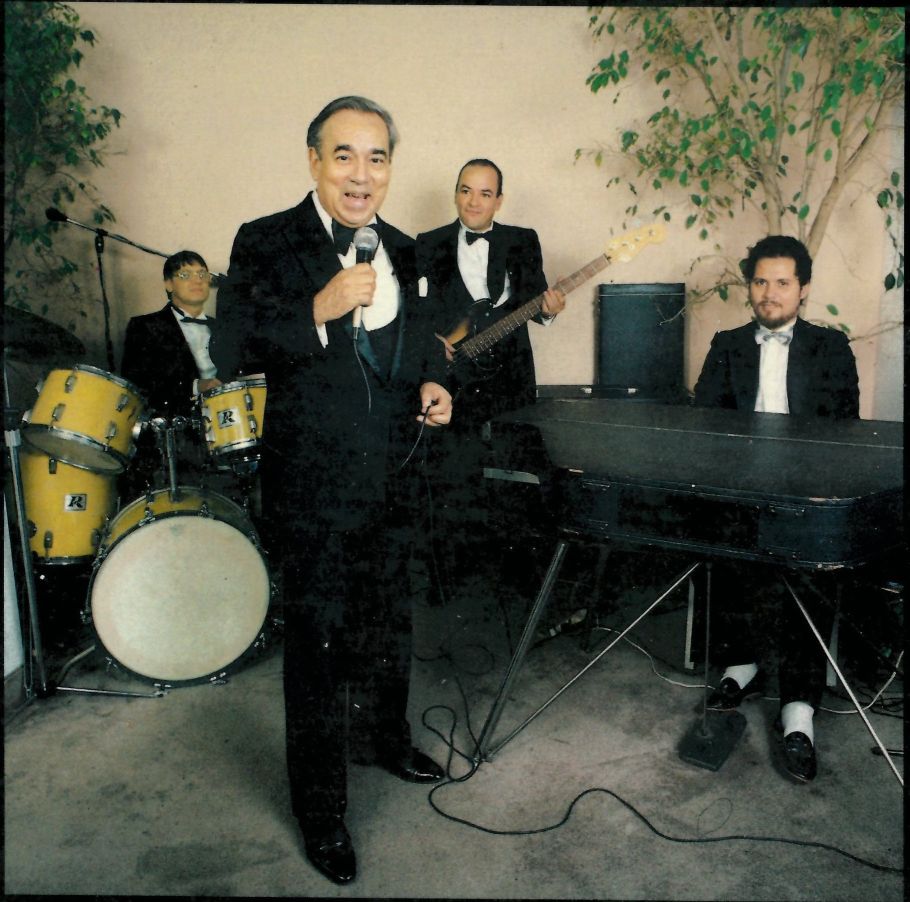 A happy scene at the Malibú
This record was published in 1987, and the story about heartbreak certainly seems to line up with the themes of the songs which seem to center primarily on heartbreak and relationship issues (especially on "Lo Que Pasa Contigo" and "Amor en Pedacitos"), so the story of this record as far as I can theorize is that Aldemaro is celebrating a milestone in his music career by getting together with his friends, some old (Frank and Michael, Alí Agüero), some new (Pedrito and Freddy Roldán on percussion) and singing to his newer compositions, many of which to do with his relatively recent heartbreak and, at least one (Amiga Mía) relating to his latest rebounded love, perhaps the Carmenofelia Colmenares listed in the back cover.
It is a strange record, as Aldemaro throughout his life often noted he was not a particularly good singer, and yet here he is, having the time of his life. The end result is that you have impeccable musicianship from Onda Nueva veterans Frank Hernández and Michael Berti Soteldo, both playing deliciously intricate patterns to Pedrito's respectable keyboards, with the voice of a possibly inebriated Aldemaro over the top, passionate but clearly out of his league among these greats. You can practically picture an ear-to-ear grin on Aldemaro's face as he sings these, a definite passion project. If that wasn't hint enough, this record has one of Aldemaro's best known songs on a sillier side, "Esta Noche Me Voy a Emborrachar Con Mi Mujer" ("Tonight, I'm Going To Get Drunk With My Wife") - a delightful romp, almost sounding like Aldemaro is holding back laughter throughout. It's overall an interesting experience. I've always thought Aldemaro, while an exceptional and world-class composer, leaves much to be desired as a lyricist, and "Tu Quieres, Yo Quiero" is particularly awful and banal. And yet - the record is just plain fun. The more I've listened to it, the more I find it charming. Perhaps you will as well!
---
Liner Notes
Not much information here, but the credits are a little more extensive than usual and include friends of Aldemaro - note Alí Agüero, famed member of Los Cuñaos.
Personnel
Ruby Romero de Laine - Producer [Editor's Note: This is Aldemaro's daughter, today Ruby Romero Issaev, the executive director of the Arts Ballet Theatre of Florida]
Mario Alfonzo Bravo - Sound technician and mixing
Otmaro Ruiz - Keyboards and co-arranger
Michael Bertisoteldo - Bass and co-producer **[Editor's Note:
Frank Hernández - Drums [Editor's Note: This is the famous Frank "Pavo" Hernández, master on the timbales and long-running collaborator with Aldemaro, especially in his Onda Nueva]
Freddy Roldán - Percussion
Pedro López - Pianist for Aldemaro Romero
Alí Agüero - Copyist and comrade [Editor's Note: The Spanish is "compadre", the specific meaning without extra connotations is hard to convey]
Antolín Sánchez - Photography
Martha Gonzalez Herrera - Graphic Design
Mercedes Amelia Ríos - Note-taker
Carmenofelia Colmenares - My friend, without whose help and collaboration... [sic]
For all songs, lyrics and music composed by Aldemaro Romero.
---
Track List and Rip
A1 - Amiga Mía
A2 - Tu Quieres, Yo Quiero
A3 - Regresarán las Lágrimas
A4 - Lo Que Pasa Contigo
A5 - Te Acuerdas
B1 - Esta Casa
B2 - Amor en Pedacitos
B3 - Esta Noche Me Voy a Emborrachar Con Mi Mujer
B4 - Lo Mejor Es el Amor
B5 - Así Es Mi Mujer
This record comes highly recommended for fans of Aldemaro to see another side of him, but also mildly recommended to people who just want to see the sharp contrast of solid composition with excellent musicianship and a singer whose passion and the fun he's having far outstretch his control and range. It's grown on me after a few listens, and hopefully it does on you too.
Get the album: here