Don Lewis - The Don Lewis Experience [Aquarius Records, 197?, LP]
Virtuoso organist, instrument hacker, musical systems engineer and famed session musician, Don Lewis is one of the more obscure pioneers of electronic music - though he really shouldn't be, given his contributions are felt far and wide in the past 40 years of music. Whether it's his incredible system for communicating between many different synths on one keyboard, an inspiration for what would become MIDI, the Live Electronic Orchestra, or his work on the TR-808, possibly the world's most famous drum machine, it's clear that Don Lewis is a legend of modern music.
Don Lewis got his start at his uncle's church as an organist per the liner notes on this record, and had been playing piano since high school in Ohio. From there, the trail goes cold - the club where he's performing, the Passport Ltd., has vanished into the mists of time, as has the Aquarius label that published the record. Somehow, at some point after 1968 (when the Hammond X-77 was released), and likely after his fateful performance at the 1969 NAMM where he met Ikutaro Kakehashi from Ace Tone, he was in the Passport Ltd. club in Denver, performing to resounding acclaim, managed by Aquarius Management Corporation.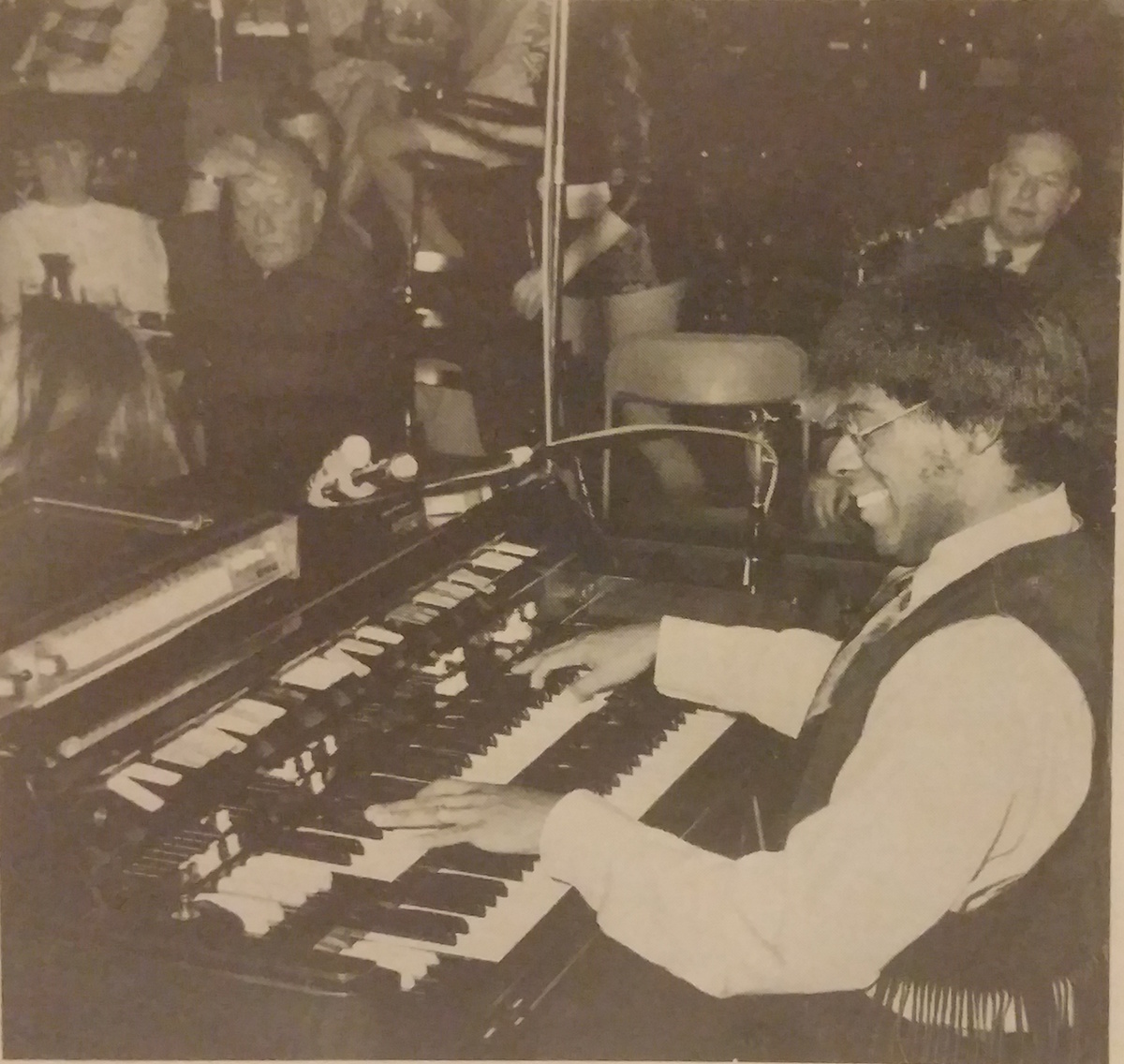 Don Lewis playing at the Passport, Ltd.
What I do know, however, is that Don Lewis is absolutely killing it here. This is a really special record, and a tour de force of his amazing skill at the organ. Every track is a gem, from the funky breakdowns of "And They'll Know" and one of the greatest covers of "Bridge Over Troubled Water" you'll ever hear with a long improvised bridge, to the show of sheer dexterity and power in arms, legs and electronic wizardry from his extensively modified Ace Tone FR-2L in "Sweatin'" and a funky "The Look of Love" with soul-filled vocals, they all must be heard to be believed. I found out about Don Lewis while looking for Yamaha GX-1 and EX-42 Electone performers, via an obscure YouTube video from a Japanese organ enthusiast, and I've been hooked ever since. After listening to this album, I bet you'll be hooked, too!
Liner Notes
These come straight off the back cover of the record. A couple of credits, first:
Photos by: Lawrence of New York, Denver [Editor's note: I have no idea what this means...there isn't a New York in Denver, is there?]
Produced by: Aquarius Management Corp., Denver; Passport Ltd., Denver; Hammond Organ Company
"Don Lewis is managed exclusively by Aquarius Management Corp., Denver" [Editor's Note: If anyone knows what this management corporation is, drop me a line, I'd be glad to know]
---
Listening to Don Lewis play the Hammond X-77 GT at the Passport, Ltd. is an experience - a Saturday night-Sunday morning kind of séance that conjures up the Saturday sincs and Sunday second thoughts of a lifetime and makes the listener joyful he has shared in the rhythm of life.
That joy of living in all its aspects is one of Don's identifying characteristics. You can see it in his face, hear it in his laughter, as he goes through his paces at the Passport where sets often stretch to close to two hours.
And you can hear it in this live album. The unbounded exuberance of "Ode to Billy Jo"...the hip high church "And They'll Know"...the turned on woodpecker treatment of "Aquarius"...the introspective "Bridge Over Troubled Water"...and the outright sentimentality of "Look of Love".
But Don Lewis at his best - the things he does that cause other entertainers to use their precious break time to rush to the Passport for a lesson in showmanship - is exemplified in "Little Girl Blue" and "Sweatin'."
In "Little Girl Blue", he uses that Saturday night-Sunday morning format, opening with "Good King Wenceslas", the way he must have played it at the early service when he was organist for his uncle's church back in Dayton, Ohio, then suddenly swinging back to Saturday midnight with his Lou Rawlish portrait of the lonely girl, then moving on toward dawn with his "Raindrops" refrain.
It takes a musician as accomplished and imaginative as Don to toss classics, blues, liturgical music and pop like ingredients in a salad, then serve them as a side dish with soul food.
His improvisations on numbers like that can go upwards to an hour but other gems like "Sweatin'" are short and sensational. You have to actually see him in perpetual motion at the keyboard, and hear the sounds connected with each move (many times on this album you can hear his nimble fingers dashing across the keys) to be convinced the whole thing isn't just a figment of some Hammond engineer's imagination. One man does make all that music!
As a matter of fact, Don, who studied electrical engineering at Tuskegee Institute before opting for a show biz career, has souped up his X-77 GT so that even the Hammond experts are dazzled by some of the effects he produces.
This instrument is Hammond Organ's latest innovation in a console model organ, and is an experience in itself. The unlimited tonal resources allow Don to play liturgical, jazz, rock, ballads, and pop music without dubbing in other instruments after the fact. Don's X-77 GT organ has a pair of four channel speaker systems together producing 400 watts RMS power. It took eight microphones to achieve the proper balance for this recording. QUITE AN ORGAN!! [sic]
But enough of all this blather. If you've seen Lewis, in one of his many personal appearances across the country, or have ever been to the Passport, Ltd., in Denver, where he plays regularly, you know he's indescribably delicious. If you haven't, stop fooling around reading this. Turn on your phonograph...put the record on the spindle...and get on with THE DON LEWIS EXPERIENCE...
---
Track List and Rip
My apologies for the tracks in the rip not having much lead-in silence in any of them. While the record has bands, they are often not silent at all, and it behaves as if it were a continuous groove record. I did my best to chop them up; I think it came out alright.
When I got this record, I was hyped, as I had only heard excerpts from "And They'll Know" and "Sweatin'". Even then, I underestimated him. I hope you enjoy this lovely record as much as I have.
If you enjoyed this album, please consider donating to The Ballad of Don Lewis, a documentary about his life
If you want to hear more of the Live Electronic Orchestra (LEO), please consider buying his remastered LEO album on CDBaby - the only performer is Don at the marvelous LEO
A1 - And They'll Know (Peter Scholtes)
A2 - Little Girl Blue (Hart-Rodgers; contains excerpt of "Raindrops Keep Falling on my Head" by Bacharach)
A3 - Sweatin' (Don Lewis)
A4 - Aquarius (Rado, Ragni, McDermot)
A5 - The Look of Love (Bacharach)
B1 - Sunny (Bobby Hebb)
B2 - Bridge Over Troubled Water (Paul Simon)
B3 - Watermelon Man (H.Hancock)
B4 - Ode to Billy Jo (Bobbie Gentry)
B5 - A Whiter Shade of Pale (Reid-Brooker)
Get the album: HERE